As always, the annual Edinburgh Festival featuresa a line up of great stand-up comedians, theatre performers, circus acts and musicians at your disposal. Afridiziak caught up with stand up comedian Dane Baptiste who returns to the Edinburgh Festival with a brand new hour entitled 'G.O.D.' The London born stand up made comedy history in 2014 as the first black British act to be nominated for a Fosters Award with his debut show 'Citizen Dane'. G.O.D is an abbreviation of the new things that humanity has come to uphold over everything else; namely Gold, Oil and Drugs. Recently Dane has written and starred in his own BBC sitcom series 'Sunny D'.
Taking that first leap into comedy must have been nerve wracking? What gave you that much needed confidence to leave the perceived security of a 9-5 job and start doing comedy full time?
The Credit Crunch. Seeing the second recession of my lifetime was the last thing I needed to get me on the path of doing what I wanted to do, instead of what I thought I SHOULD do. No job is forever; and no occupation is completely financially stable, apart from gravedigger. So with that dark fact in mind; I knew that I should be doing something to make people happy, because nothing else lasts long enough to be taken serious. Also having a disciplinary warning at every job I ever did proved I wasn't cut for the office.
When did you first realise that you could make people laugh? And when did you realise that people were laughing with you and not at you?
I think I realised in primary school; we'd have school assemblies, and usually as a result of not playing the recorder and constantly being in detention meant I missed the opportunity to be in a group. So I'd perform skits alone and get a good response. And I think it was that love, combined with being able to express myself freely without the staff chastising me for being disruptive planted a seed in my head.
In many cases the lack of representation from black creatives means you can get shouldered with the responsibility of representing black people, which is impossible because there is no homogenous black experience.
You have been described as the UK's answer to Chris Rock? Who are your real inspirations, alive and/or dead? And what is it about them that inspires you?
Ha! Nobody says that to my face though. But I have a literal big head, so maybe gassing me further isn't a good idea. Chris Rock was the comic I heard at 15, which made me want to do comedy for a living. Since I've started doing comedy, aside from the greats (Chappelle, Murphy, Patrice O'Neal, Dick Gregory, George Carlin, Jo Brand, The Wayans, Monique et al) I'm inspired by my peers that I work with on a day to day. We're all working to push our scene in our own individual ways, and progress for one is progress for us all.
How did you feel when you were nominated for the Edinburgh Comedy Award Best Newcomer in 2014? How did you celebrate such good news and how did you deal with the increased recognition from the media and people in general?
I felt hungry, (I hadn't really eaten that day until I found out) then I felt great! It transpired that I was the first black Briton to ever be nominated for the award so it was additional boon to make history to an extent! The increased recognition was fine, I don't ponder it because success and fame are fingers on the same hand, but not the same thing, so I won't even consider media attention unless my material is on the optimal fleekiest levels possible, so I can deliver on any hype.
I watched Sunny D on BBC, and enjoyed it. What was the inspiration behind your writing and what gave you the idea to create the show? Will it be returning to our screens soon?
The inspiration for the show was life! Just a number of comical events in my life that I captured and a lot of cases embellished for comedic effect. The show is chronicling my life before comedy so a lot of the characters are loosely based on people I met throughout my journey. I think we all aspects of our lives that makes us think "The world needs to see this sh*t!!" But this was all before Instagram and SnapChat stories, so comedy was the method that worked for me. If enough people see the show and support it; as well as let the BBC know, then a second series could happen!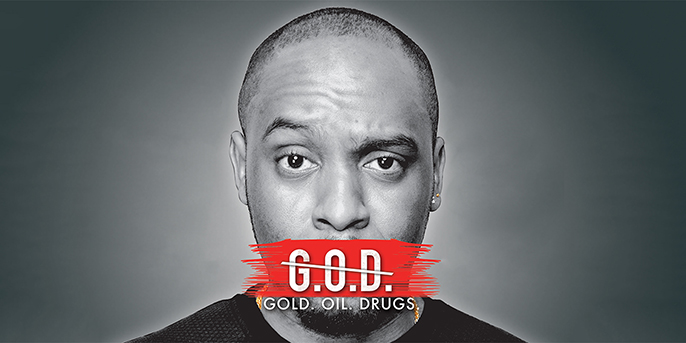 How do you mentally and physically prepare yourself for a show?
Well I used to chain smoke; but realised that using cigarettes as a crutch wasn't a good idea, people won't tell you how you did if your breath stinks. Also I usually have to cleanse my body before getting on stage. I hope that's self-explanatory; because you don't want me to get into specifics of the various public toilets I've had to use to prepare myself mentally and physically.
How do you handle negativity in the media or from fans? Do you find that the negativity is racially biased?
I don't read reviews as I don't want the opinion of critics to have any bearing on what I do. I think in many cases the negativity can be subversively racist. In many cases the lack of representation from black creatives means you can get shouldered with the responsibility of representing black people, which is impossible because there is no homogenous black experience. But other than that I don't really worry too much about negative press, I'm a comic, not a terrorist; so if people don't like it, they're not hostages they don't need to watch!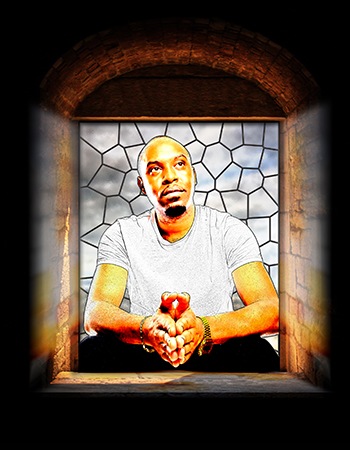 A lot of black British comedians and actors have felt that they had to go to the US to get the recognition and opportunities. Are you tempted to go over to the US?
I am a dual citizen so technically speaking I'm halfway there as an American citizen. It's on the bucket list, as so many of the comics that have inspired me are from the States, so it's a point of principle for me to go over there and see how my act works. I've definitely seen the evidence that the US provides opportunities for black British comics; so hopefully I can buck the trend and open more domestic doors for other creatives.
You are outspoken about the racial issues within the media and entertainment industry in the UK. How did you deal with the barriers and prejudices when you first started out?
I made sure I was so good that I couldn't be ignored. I was aware of the prejudices within the UK and how they manifested in the industry, so I always made sure that my material would defy expectations so they couldn't pigeonhole my act.
Do you see any positive changes in regards to equality and diversity in the media and entertainment industry today?
I made sure I was so good that I couldn't be ignored.
Definitely, the rise in internet based/social network comedians is a very positive movement. The idea of taking their creativity in your own hands and going around gatekeepers to get your work to an audience has been amazing and inspirational. Also following my nomination I've seen a large amount of diverse acts from different backgrounds plying their trade at the world's largest arts festival and it's changed the whole landscape of comedy, and it's a great look!
Who on the scene excites you right now?
So many people! Kae Kurd, Mo the Comedian, Athena Kugblenu, Junior Booker, Twayna Mayne, Sophie Willan, Akemniji Dfornyen, Tommy Moutchi, and on and on. As I said, most of the people I work with inspire me in one way or another.
What's next for your career?
World Domination. Or a maybe a world tour. Whichever comes first. You know me, staying humble.
---
Info: You can see Dane Baptiste: G.O.D (Gold. Oil. Drugs) at the Edinburgh Festival Fringe, Pleasance Courtyard, 9pm from 5 to 27 August (except 16th ) 2017 / book tickets