Anna Maria Nabirye – interview
They Drink It In The Congo, Almeida Theatre
Everyone remembers their first love and for Anna Maria Nabirye, Cupid's arrow struck at the tender age of 13. In Finchley Youth Theatre, the London born artist fell in love with acting. Nabirye pursued her passion by attending the Brit School and has gone on to forge a successful stage and screen career. But Nabirye's subsequent career choices have been anything but conventional.
The writer and producer has embraced multifaceted storytelling, performing in puppet productions and post-apocalyptic promenades. Nabirye even learnt British Sign Language for children's drama Igloo Hullabaloo. Nabirye has also acted in many African heritage plays such as Egusi Soup (see listing) and most recently, National Theatre's Les Blancs (see listing). Whilst Nabirye has never shied away from controversial productions, she admits to being slightly dubious about her role in They Drink It In The Congo (see e-newsletter).
It's vital for people to see real life reflected on the stage and on the screen, which is why They Drink it in the Congo is such an important play
"A few years ago I was in a production of Eve Ensler's A Memory, a Monologue, A Rant and a Prayer which was to raise money for a Congolese charity called City of Joy. They offer shelter, education and support for women who've suffered abuse or are separated from their families. I've always remembered that experience and when I got this role, I felt a slight dread at having to re-enter that emotional space again. Then of course I felt bad because I have the choice, whereas people living that reality have none."
Adam Brace's bold new play explores Britain's relationship with the Congo, as well as exposing some of the most shocking experiences of people in the Democratic Republic. Nabirye explains from the seafront at Hastings: "The play follows a British woman, Steph who has been awoken to the situation and the tragedies that are happening in the Congo and feels compelled to do something about it. It looks at the charity aspect, NGO, colonial history and all the complication and politics of that."
Whilst the play focuses squarely on the Congo, Nabirye believes that the production engages the diasporic experience and postcolonial reality in a far wider sense.
"I feel there's something in the essence of this play that means it could be about elements of different places around the word. It could also be about different diasporic groups that are no longer living in their homelands due to war and violence and multinational corruption. There are similarities that echo, especially around issues such as colonial debt because so much of the world is recovering from colonialism. The most frightening part is that the former rulers are still reaping the benefits of that legacy."
Nabirye plays Anne-Marie (which apparently got a little confusing in rehearsals) a Congolese woman who has made her life in London and runs her own charity for women from her country. The actress elaborates in soft, contemplative tones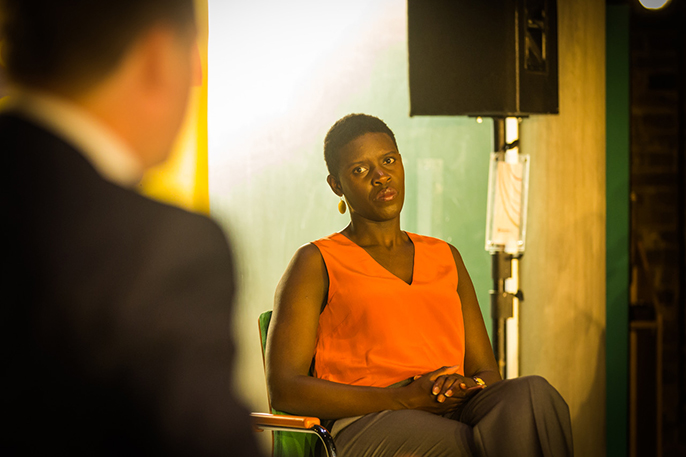 "She's an intelligent woman who has a big heart and is working through things in an academic and practical way. Both the trauma that she has personally experienced as a child raised in a civil war, but also her knowledge of the greater problems that are facing her country. She is also trying to reconcile her cultural identity, because there are parts of her native culture which she refuses to accept and so she is accused of having lost her culture by other Congolese characters in the play."
A child of Ugandan refugees, Nabirye shares that she relates to the experience of dual cultural identity. In particular, her character's relationship with her British born daughter, Suzanne has led her to consider her own mother's position.
"There are parts of Anne Marie's story that I feel linked to my mum's experience of coming from a country and trying to work hard in an alien environment. Trying to do the best for her children. Maintaining your cultural background, but also integrating to the culture that you're now in."
Born in London, Nabirye reveals that she wasn't aware of her colour or Ugandan background until her first visit to the country at eight. She laughingly describes being thrown by the swarming insects and native food, but also discovering something deeper.
"Growing up in Mill Hill, I think there were maybe two other black families in the area. Then when I went to Uganda I was amazed that there were no white faces. I was shell-shocked! But then I remember seeing people who looked like my mum or had her little verbal ticks and thinking 'Oh wow, this is where I come from!' Even though it was an alien land, I felt at home which was strange."
Much like her character in TDIITC, Nabirye is deeply invested in her family heritage, even coining the term 'Uganglish' to best describe her personal status. This fusing of her two cultural influences inspired her to found fashion and craft business, AfroRetro. Run by Nabirye and her sister Lily Babirye, the label produces jewellery, clothing and craft kits with Ugandan and English flair.
"My mum was making plans to move back to Uganda and I felt a real need to explore my identity and different parts of my culture. It was also around the time where there was a lot in the press about the Anti-Homosexuality Bill and I felt it was the right time to connect with and celebrate my culture as someone who was born in London. My sister did fashion and textiles and as her little sister I've always been her little helper, so we founded AfroRetro."
As a self-confessed 'green warrior' Nabirye's label is an ethically minded company, which recycles and reuses clothing and materials to create unique pieces. AfroRetro also runs craft workshops which as Nabirye puts it "encourage people to explore their own identity mash ups and their own creativity in terms of making things or bringing new life to unloved garments."
The Congo isn't in London, it's far away and rarely discussed, so let's talk about it
Highly clued up on ethical labour and eco-friendly production, Nabirye shares that the five-year plan is to open a production point in Uganda, to promote local commerce and provide jobs. The jewellery maker explains that the shipping of clothes overseas has crippled local manufacturing industries. Nabirye links this to They Drink it in the Congo, as the ravaging of the country's resources has been the catalyst for violent conflict and land wars. In particular, the exploited labour force in the Congo's coltan mines is a vital issue, featuring strongly in the play. Nabirye has obviously given the subject a lot of thought and believes boycotting coltan is not the answer.
"I knew about coltan; its use in devices and how it's ripping apart the Congo and furthering the war. We're on the consumer end, I mean I'm talking to you on my phone. We have to take some responsibility. It would be impossible to not use items containing coltan, the real answer is to clean up the trade. Enhance peoples' safety and give them fair pay that reflects the work they're doing."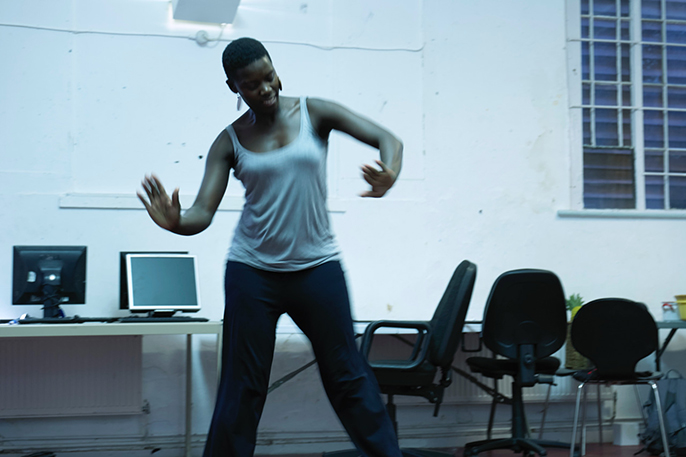 As well as human rights and the environment, Nabirye is also a devout supporter of inclusivity within the arts. The artist shares that she has felt frustrated at the roles available to her as a black actress, so decided to found Write Act Productions.
"It was a response to being a black actress in the UK and speaking to other black actress who felt the limitations of the roles and storytelling. There is a lack of representation of not only people of colour, but also people of different abilities and from different communities. So rather than whining about it, I thought maybe I could try and write the kind of things I want to see and other people might be interested in."
Write Act Productions has collaborated with playwrights such as Daniel Carter-Hope and organisations such as Daedalus Theatre Company. Nabirye is especially excited about her screenwriting, having written and produced film short Brutal and is currently developing a television drama. The multi-talented artist explains her motivation by saying: "I've always loved writing, and I feel it's important for people to see people who look like themselves doing different things in the world and succeeding at them. In the same way, it's vital for people to see real life reflected on the stage and on the screen, which is why They Drink it in the Congo is such an important play."
An important play indeed, which leads me to ask my final question…
Before I let the artist get back to enjoying the fresh seaside air, I ask the rather inspiring Nabirye why people should come and see They Drink it in the Congo: "I feel like there is so much in this play. Even down to the Almeida Theatre; being in the white, middle class area of Highbury and Islington staging it. There are so many ideas in it and if people are curious, the best way to start that journey is to see the show. The Congo isn't in London, it's far away and rarely discussed, so let's talk about it."