Angela Wynter – interview
Wolf in Snakeskin Shoes – Tricycle Theatre
Veteran of stage and screen Angela Wynter made her acting debut in Mustapha Matura's (read interview) Meetings. As a key part of the black British drama movement, Wynter has gone on to star in pioneering works such as feature film, Burning an Illusion and ground-breaking sitcom No Problem!Her portrayal of Yolande Trueman made Wynter a familiar face on our TV screens, but the actress has recently returned to her first love. The stage. Currently playing Mother Organdy in A Wolf in Snakeskin Shoes (see listing), Wynter explains her immediate interest in the piece. "I think this play is so relevant to what is happening in the world now. It's a lot to do with the misuse of power and human weakness, which is something we see in so many situations."
Marcus Gardley's new play is a reimagining of Molière's Tartuffe, exploring the issues of deceit and greed in modern society. Set against the backdrop of a megachurch in Atlanta, Wynter has a discerning view on the play's religious subtext. "There's nothing wrong with faith, per se. But in the play it shows what can happen when people put all their faith into something for the hope of something to come. Hope is an aphrodisiac, but it can lead people to be blinded – especially when it's being dished out by such a charismatic person."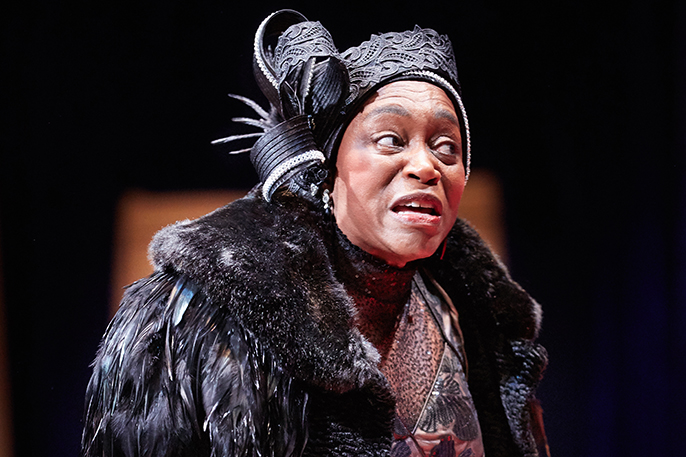 I think people of faith will find something useful and atheists will gains something too. You'll find Wolf in Snakeskin Shoes illuminating, disturbing and entertaining
As well as playing Mother Organdy, Wynter will be putting her amazing voice to use in the show's ensemble. Having previously sung in View from a Hill and reggae collective Sista, the show features plenty of gospel themed verse for Wynter to get her vocal chords into. When discussing the play, the Jamaican born artist reveals that she has always been drawn to provocative drama. "I was intrigued. I have my opinions on the church and faith. At the end of the day, I love to do things that have a message, that's the bottom line – whether it's in music or in acting."
Wynter was so intrigued by the play that she turned down a role in a musical to take part. Having moved to Peckham in 1965, the actress reveals that representing facets of own background is central to her choice of roles.
"I like doing plays that reflect aspects of black culture or the condition that black people find themselves in. What I'm interested in, is seeing people who look like me, or projecting people who look like me. Of course I enjoy a challenge, but it's easier for me to find a source, to bring something to the table."
I find Wynter wonderfully outgoing during our interview. The actress is full of praise for her fellow cast members, warmly listing each person's achievements. She describes Adjoa Andoh (read interview) as "the Queen of radio" and Sharon D. Clarke's (read interview) "fantastic voice" with gusto. It transpires that throughout her career, Wynter has worked with every cast member, save one. Now fully acquainted with Michelle Bonnard, Wynter labels the actress "A powerful little sister." Wynter seems especially thrilled to be acting opposite Lucian Msamati (read interview), having been directed by him in Boi Boi Is Dead. The artist bubbles with enthusiasm as she recounts working with Msamati.
Boi Boi is Dead was just stunning. Stunning writing, cast, design. It was an honour and a privilege to be in that play. And what a director! Lucian is such a charming and subtle man. I was in the ensemble in Amen Corner which he starred in and now I'm finally working with him as an actor, which is just wonderful. It's so exciting to work with our lovely Indhu (Rubasingham- Director) as well. I've admired her from afar; I remember when she was coming up as a young, female director. She's so talented, it brings power to us as women."
It is undeniable that Wynter has done her own share of empowering others throughout her distinguished career. Having worked with the Black Theatre Cooperative and Talawa, Wynter was at the grass roots of the BAME drama movement. It was during her debut play Meetings that Wynter met fellow innovator and future EastEnders's spouse, Rudolph Walker (OBE). Wynter jokes that having played his servant in Meetings and his daughter in feature film Elphida, she looks forward to playing Walker's mother. Whilst the face of British drama has become less singular, Wynter asserts there is still a way to go, especially on screen. She explains that her role in EastEnders felt particularly significant due to its unique portrayal of a Caribbean couple.
"I am proud to have been able to do that. To bring that character and that coupling to life and bring a positive spin on a black couple which is something you rarely see on the TV. To bring an authenticity to the language, to our whims, our culture was fantastic. I feel as though I brought my community to the masses because that part of ourselves is largely invisible. Plenty is known of single parenthood, but not much is known of family life. We worked very hard to convey a lot of loving, teasing, pathos and tried to do it with as much truth as possible. Because no one knows that we love."
Wynter's dedication to authenticity has been a guiding force in her work. The actress explains that she never got into acting to be famous and dislikes the superficial side of the industry. Having attended a two year drama college course, Wynter decided against taking an acting degree. Instead she took a direct approach and learnt her craft through experience.
"I went to one audition for an established drama school, but by that time I was coming to consciousness; reading Malcolm X and finding myself. I grew up in the time of Angela Davies and the drama school atmosphere seemed rather superficial. I just couldn't take the 'darling darling darling.' I regret it now, technically it would have taught me a lot that I instead had to learn on the job. But at that time, coming into my own it was what I needed to do, so I joined a black theatre company called Black People of Brixton. It all started from there."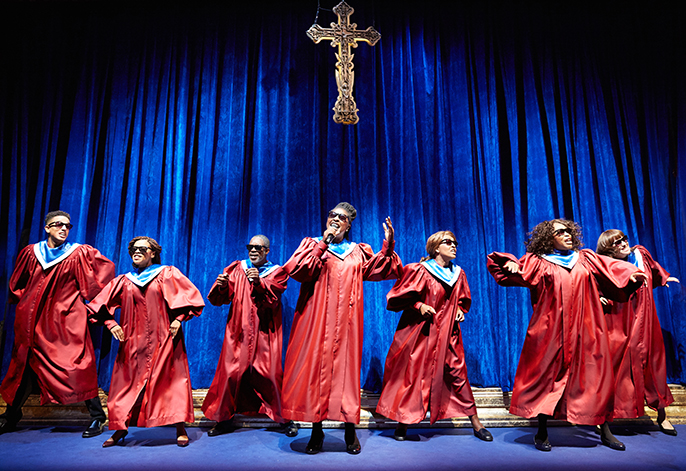 One can't help but feel stirred by Wynter's tenacious attitude. With ambition, conviction and a whopping amount of talent she built her career on her own terms. Even more profound is that her work laid the foundations for the next generation of non-white artists. Having achieved so much as a singer and actress, Wynter is a firm believer in taking personal initiative. "A brother that I listen to always says 'If you don't play the lottery, you can't win it.' When I listen to young people and all the things they're doing and how proactive they're being I'm proud of them. I've never been a pushy person; I always felt my work should speak for itself. Now I'm enjoying being on the stage again and so am working on selling myself more. You just have to go and buy some tickets."
It was an honour to speak to this formidable woman, so full of enthusiasm and warmth. I didn't realise that Wynter was furiously negotiating her breakfast throughout our interview and has to rush off to the Tricycle. This gives me just enough time to ask the trailblazing actress why people should buy tickets for A Wolf in Snakeskin Shoes.
"Because it's good to see that scenario unravel before your eyes. It's quite an irreverent play, I think people of faith will find something useful and atheists will gains something too. You'll find it illuminating, disturbing and entertaining."
---
Info: A Wolf in Snakeskin Shoes is at Tricycle Theatre until November 14, 2015. Book tickets now