​Selina Thompson – interview
Dark and Lovely
For performance artist Selina Thompson, bigger is always better. The last time I interviewed (read interview) this bright young woman she was spending her evenings being made into a giant cake for her show Chewing the Fat. Thompson's work deals with the politics of identity and the complexities of self-image. In her new play Dark and Lovely, the artist will be delving into the much debated topic of black hair. In true Thompson style, the Birmingham lass will be conducting her show from inside a giant 'tumble-weave.' This eight foot structure is comprised of abandoned weaves and extensions, physically representing the issue at hand. When asked what inspired her to create this show, Thompson explains that online discussions prompted her curiosity.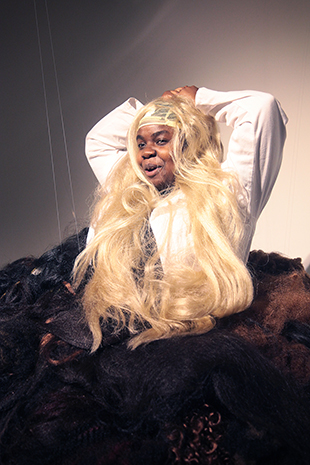 "Last year I was coming across loads of writing online that was talking about natural hair as a revolution or movement. I was interested in that framing; whether it extended beyond the internet or if it was just being turned into a trend and being hyped out of perspective. That was something I really wanted to explore."
Thompson threw herself hair first into her research for this show. During placements at barbershops, hairdressers and hair retailers she interviewed those within the industry and members of the public about their own experiences. Thompson elaborates
The show is dissecting what being black is and what being black isn't. 'Dark and Lovely' is an exploration of black women's hair and the politics that surround it
"I spoke to people about how they wore their hair, why they did and how it made them feel. Really the show is dissecting what being black is and what being black isn't. So the show is an exploration of black women's hair and the politics that surround it."
Currently sporting an afro, the Leeds based artist reveals that she has had a volatile relationship with her own hair. In an unusual hairy tale twist, Thompson's hankering for straight tresses resulted in her suspension from school.
"I got my hair relaxed when I was 13, it took about a year of begging my mum and I finally wore her down. Then by the time I was 16 it was so damaged by the chemicals that I had to shave it all off and I was suspended from school because of it. I had short hair for a long time, then when I was at university I wore weaves for about a year. That was terrible, it pulled my scalp too tight so I lost loads and loads of hair. It's only in the last two or three years that I've had a better hold on how to take care of my afro."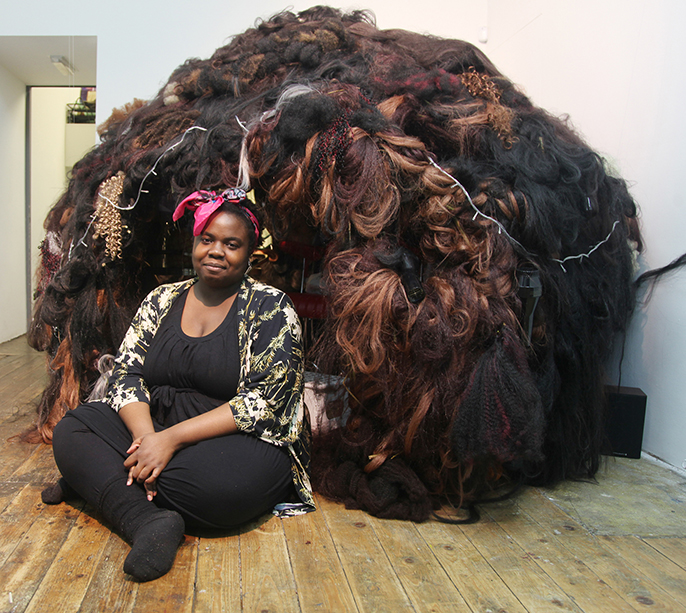 Thompson's work aims to connect with her audience on personal level. Dark and Lovely can host an audience of up to 40 people and the artist is eager for show-goers to get involved, saying "I want people to have a good chance to get their hands in the tumble-weave." The show creates an intimate setting with lashings of rum punch and direct conversations with the audience. Thompson's inclusive approach is partly her innate generosity of spirit which shines through during the interview. It is also an intelligent method of deconstructing vast social issues and relating them to the individual. The domestic ambience is extended by Thompson having her hair done during the show and beauty products being made live on stage.
"It's really interactive, it's about opening up these conversations and trying to create a space which evokes the barbershops, the hairdressers, being sat on a stool watching Saturday night TV with my Mum doing my hair in 1997. It's trying to connect my personal experience of my hair and the experiences of people that I met with the broader political framework in which those beauty decisions are being made."
Whilst touching the tumbleweave is encouraged, Thompson advises me against jumping on it. (Well, I had to ask.) She admits that creating the hirsute structure proved quite a challenge.
"It's made of the really cheap kanekalon hair you use for braids. We needed so much, so it's packs and packs of this hair. Also when I was working at a hair retailers there was this box of weaves that nobody wanted. They were weird grey colours or hair that had gotten matted over time, so that's in there as well. When we first did the show in Chapel Town, we did it in willow, but it sank a little bit everyday so we had to hook it up to the ceiling with fishing wire. But my award winning designer, Rachel Good works with a carpenter called Tim, so we now have a steel framed structure which is far sturdier. It took about two and a half weeks to weave the hair into it."
In researching her show, Thompson has explored the plethora of factors which inform attitudes to hair. The artist has delved into the cultural, political and financial implication of the matter and explains that money can play a key role in how people style their hair.
Even now, for my nan natural hair is not OK. She's always asking when I'm going to get my hair braided, for her it looks messy and unkempt.
"To have a good weave costs a lot of money. Often when people are talking about a bad weave what they mean is a cheap weave, which is problematic. That being said, lately online on Twitter and Tumblr, there's lots of writing and art made about the concept of 'the carefree black girl.' It's featuring people like Janelle Monáe and Solange, these figures with natural hair. This online movement does seem super middle class. It's aspirational, designer clothing wearing, brunching figures that are connected with natural hair. Class does come into it and there's a certain level of respectability associated because again, well maintained natural hair isn't cheap either. Good quality shea butter or coconut oil isn't any cheaper than the relaxing products. For a while I thought this was all about class, but it's not as simple as that. It is impossible to generalise."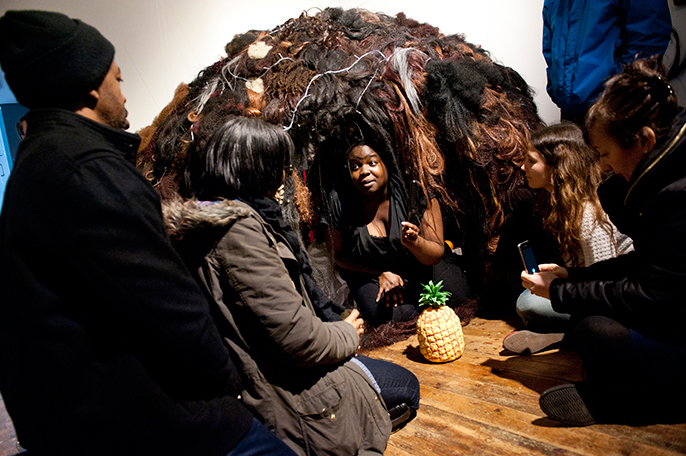 Audience & Tumbleweave
Black hair has become a hot topic in recent years. This can be partly attributed to Chris Rock's 2009 documentary Good Hair, which placed the subject in the media spotlight. Thompson reveals that she has watched the film but has some misgivings about Rock's approach.
"It's a good 101 introduction, but I'm always interested in who the audience is. I wondered if that film was genuinely made for black women or if it was a film about black women made by a black man for a white audience. I think black women in particular have to justify the choices they make about how they dress, how they look, how they do their hair. When I watched Good Hair there seemed to be a judgment attached about how much women spend on weaves, what wearing a weave does or doesn't mean and sometimes I wonder if it opens up women to judgement."
Thompson is fiercely opposed to generalisations. In her expansive analysis of the topic she has taken not only current but historical perspectives into consideration. Her paternal grandparents are from Ghana and Jamaica and from Jamaica and Monserrat on her mother's side. She explains that for their generation, there was an overwhelming pressure to conform to the standard image of respectability.
"When they moved here in the fifties they were treated like scum. They faced violent, constant racism. You get these glorious images of the wind rush generation, dressed up in their Sunday best because they had to hold themselves to this ridiculously high standard just to get by. So for my nan from Monserrat, relaxing her hair was about trying to survive and get by when the dominant culture that you live in is centred around whiteness. Even now, for my nan natural hair is not OK. She's always asking when I'm going to get my hair braided, for her it looks messy and unkempt. But again, you can't generalise. My dad who's from Ghana thinks it's beautiful. It varies from culture to culture and person to person. Sometimes black identity can be seen as a monolith, so the show is a good way to crack that monolith open."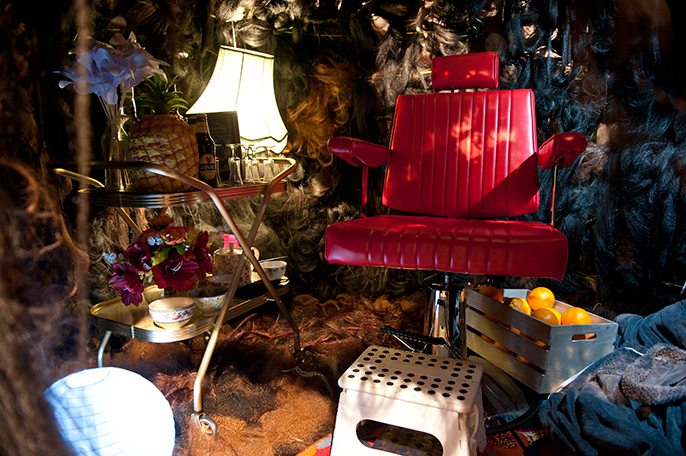 Thompson interviewed numerous people on her Dark and Lovely travels and recordings of these conversations will feature in the show. She will also be sharing her own experiences and is keen for her audience to get involved in the conversation. Placing focus upon storytelling and togetherness, Thompson's playful approach is sure to get under the scalp of the black hair debate. With so many factors informing this one subject, there are multiple reasons to see this show. Thompson expounds the show's universal appeal perfectly.
"I'd like people to come and see the show because talking about beauty, the politics of beauty and where race fits into that is important for everybody. Loads of gorgeous people were so generous in sharing their stories with me and I try to extend that generosity in the show. I hope there's a real sense of coming into that space and having honest experiences shared with you in an open way. It should entertain you, with lots of colourful costume changes along the way and lots of rum punch. And you don't get to see a giant ball of hair every day."
---
Info: Selina Thompson's Dark & Lovely (see listing) is at Ovalhouse Theatre from 7 to 17 October 2015. Book tickets/ Visit Selina Thompson's website for details on the national tour.