DAUGHTERS
SYNOPSIS
LISTINGS INFORMATION
CAST AND PRODUCTION
NOTES TO EDITORS
SPONSORS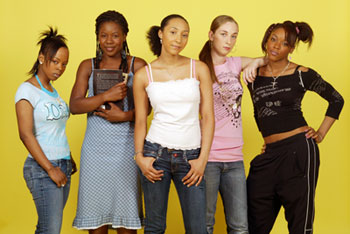 THE DAUGHTERS
Following the huge sell out success at the Hackney Empire, Angie Le Mar's hit play,
'Do You Know Where Your Daughter Is?'
comes to the Albany Theatre. This is a fast-paced production witnessing the tensions in the relationship between a mother and a daughter coupled with the devastating consequences of peer pressure. Exploring the reality of what happens when communication goes out the window, followed by rules, morals and finally love - the play features a cast of teenage actors in a hard-hitting and topical drama.
Angie Le Mar's direction of this piece breaks through the glass ceiling of British drama.
The acclaimed playwright also wrote recent sell-out productions 'Forty' and 'The Brothers', shown earlier this year on MTV Base.
In November 2009,
'Do You Know Where Your Daughter Is?'
returns to the Albany Theatre in Deptford, south-east London for a limited run in association with Lewisham Council. Lewisham Council will be hosting a series of For Daughters workshops during October in a shop on Lewisham High Street to coincide with the play.
Join us for a post-show discussion with a celebrity panel on Tuesday, 3 November, 2009.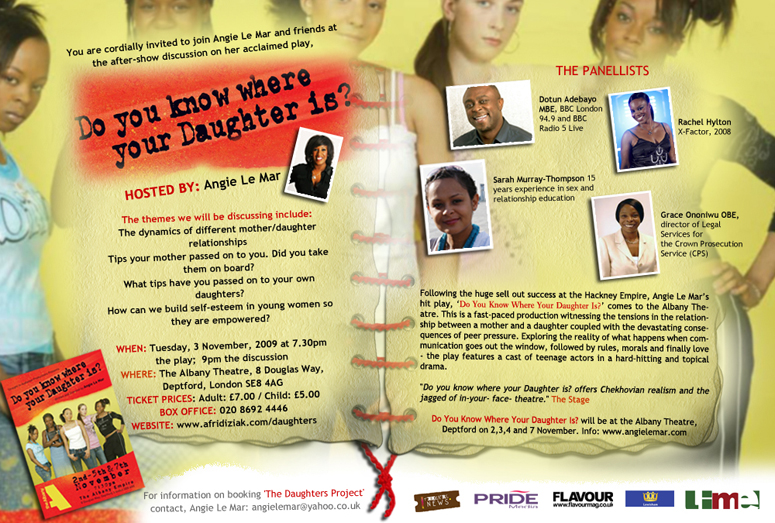 SYNOPSIS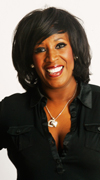 Angie Le Mar on Do You Know Where Your Daughter Is?
"There are parents who are getting on with their lives, and do not have a clue about what is going on with the younger generation. A lot of attention is paid to the boys, but not much attention is thrown upon what is happening with the girls. Our daughters are under pressure, they are being abused and are unfocused, and we are leaving them to get on with it. I believe if we can start to arm our daughters with the tools for life, if they never got it from home, then they should be able to get it from somewhere if not school. For Daughters, is for our daughters to see that we care, and we want to show you how to move on in life, to protect yourself and stay focused. Every parent should bring their daughters to the play or the shop."
"
Do you know where your Daughter is? offers Chekhovian realism and the jagged of in-your- face- theatre
."
The Stage
Starring:
Tyler Whyte, Orlessa Altass, Naomi J Lewis, Tara S.Brown, Claire Butler, Stephanie Edwin Fisher and Aaron Fontaine (Richard Blackwood show). "There are lessons here to learn and teach our children and I was both proud and in awe of the young cast's fantastic portrayal of their peers. Worth seeing – please take your daughters."
Afridiziak Theatre News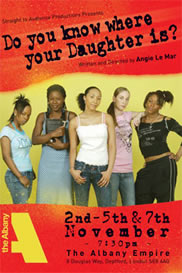 LISTINGS INFORMATION - DO YOU KNOW WHERE YOUR DAUGHTER IS?
Dates:
2, 3, 4 and 7 November 2009
Time:
Doors, 7pm for 7.30pm
Press night:
Monday 2 November
After-show Guest Q&A:
Tuesday 3 November
Mothers bring your daughters for free:
Wednesday 4 November
Ticket Prices:
Adult: £7.00 / Child: £5.00
Address:
The Albany Theatre, 8 Douglas Way, Deptford, London SE8 4AG
Box Office:
020 8692 4446
Website:
www.afridiziak.com/daughters
or
www.thealbany.org.uk
CAST AND PRODUCTION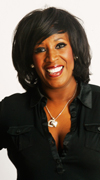 Angie Le Mar
is the writer and director of
Do You Know Where Your Daughter Is?
- a Straight to Audience production. Angie founded Straight to Audience Productions in 2001 to draw not just on her unsurpassed reputation as a performer and writer but also on her acknowledged expertise in direction, production and marketing, to serve the growing international market for vibrant, top quality black entertainment.
Angie's wide ranging career achievements from being the first British performer to storm the legendary Harlem Apollo to making history in London's West End with the first ever sell out show by a black comedienne - not only enable her to deliver top quality performance and production values on stage, screen and the airwaves, but also to attract a large and loyal fan base along with greatly increased audiences wherever her work appears.
Claire Butler
started out doing drama as a full time student at WAC performing arts and media college in 2000. She studied drama, video production and graphic design and completed the course in 2003. With her diploma Claire went Straight to Audience with Angie Le Mar.
Since her last show with
Daughters
Claire become a teaching assistant in drama at WAC, performing arts and media college. Now she works part time n retail and volunteers at a business studies and media secondary school doing drama and sports development.

Aaron Fontaine
founded his love for entertainment when he was 17 after being offered a work experience placement at popular children's network,
Nickelodeon
. Aaron decided to enrol on a three-year television production course at Middlesex University in 2006. He is now in his final year and is working towards a degree that will confirm his skills in the fundamental elements of presentation, production and performance in an ever-changing industry.
Choice FM's Richard Blackwood enlisted the help of Aaron on his popular weekly radio show,
Richard Blackwood's Sunday School
. Over the years Aaron's role on the show has grown tremendously to the point where he now co hosts each show with Richard under the alias of 'The One They Call Fontaine'.

Naomi J Lewis
My name is Naomi J. Lewis, and currently I am a Sociology and Media student at City University in London, but acting is my passion and destiny. I started acting several years ago as a hobby, but soon realised that it was the only thing that I wanted to do with my life. I attend Identity Drama School in London where I started to train seriously to gain valuable skills for acting as a profession.
I have been fortunate to get acting work fairly early on in my career. Some of my work includes work at the Young Vic Theatre, and the popular '
Do You Know Where your Daughter Is?
' at the Hackney Empire. More recently I have taken on projects which include a lead role in two episodes of
The Bill
, and a short film by Rebecca Johnson –
Top Girl
which was aimed at young audiences. The film was nominated for an award at the Berlin Film Festival. I was honored to be amongst some major international artists such as Angela Bassett, Demi Moore and Ashton Kutcher.
I have also worked in television where I fronted the Orange Rockcorps advert, as well as adverts for Kingsmill and NSPCC. I am now completing my last year of university and aim to take up acting full time when I complete my degree.

Orlessa Altass
trained at Middlesex University, gaining a 1st degree in performing arts. She has been a professional actress for 10 years, acting in film, television, stage and radio. Theatre includes:
Forty
(Hackney Empire and The Broadway Theatre),
Stereo
(Tricycle),
Blushing Bride
(BAC) and
Out of the Land
(Albany Theatre). Film includes:
Southwest Nine
,
Tube Tales
.
Television includes:
Emmerdale
(ITV),
Doctors
(BBC),
EastEnders
(BBC),
Coronation Street
(ITV), Vicky Floyd in
Bad Girls
(ITV),
Murder Prevention
(Channel 5),
The Bill
(ITV),
Casualty
(BBC). Radio includes:
Man Talk
,
Woman Talk
and
Waress
Commercials includes: Fuji camera, Music Choice.
Orlessa enjoys her on going work with 'Theatre in Education', dealing with issues of diversity, education, health, criminal justice and community cohesion through Storytelling, drama workshops and Forum theatre.

Sophia Sinclair
, age 24. Trained for two years at the RADA Youth Group and Roehampton University BA Honours degree in Drama, Theatre and Performance and Lambeth College BTEC National Diploma in Performance, Drama and Dance. Have attended workshops by Talawa theatre company, The Young Vic and The Rambert Dance Company.
Currently looking for representation. recent credits: 'St Trinian's II: The Legend of Fritton's Gold'. Ealing Studios (2009) Comedy improvisational show 'Caught in the Act' at Madame Jojo's, Soho London. JcX and Slick- Current TV (2008) 'Focus on the Family' with Angie Le Mar at Fairfield Halls, Croydon. Straight to Audience Productions/The institute of Wellbeing. (2008) Model at London Fashion Week (2009) Underground Platform, Proud Gallery, Camden (2009).

Tara Brown
attended Royal Holloway, University of London, where she read English and Drama/ Theatre Studies. She also attended The London Centre of Contemporary music where she learnt more about vocal training and control.
She went on to perform in;
The Vagina Monologues
at the Electric Theatre Guildford, Echoic, a play directed by Mem Morrison, which she co-wrote alongside other artists, at the Drill Hall in Goodge street. She also performed in
Cinderella Shoeshine
, an NPV Arts musical where she played the lead role of Cinderella at The Magic Eye Theatre (Dec 05).
It was after her performance in Cinderella when he first auditioned for a role in Angie Le Mar's play
Do you know where your daughter is?
(06,08,09). Since her first appearance as Theresa in Do you know where your daughter is? She has performed in Angie Le Mars sketches at The Fairfield hall in Croydon (Oct 08) and Mem Morrison's
Ringside
at Shoreditch Town hall (April 09).
Tara has also written her second play
Wisemen
which was performed at The Granary in Staines (Dec 2007). She currently Leads Drama at a secondary school in London.

Tyler Whyte
The young actress who goes by the name of Tyler Whyte is becoming one of the many rising stars this year. Starting off at WAC Performing Arts College, Tyler aged 17 launched her career with Angie Le Mar's
Do You know Where Your Daughter Is?
'.
Tyler was mentioned in
The Stage
magazine as they quoted her 'the true star.' Tyler after landed a role in a Lambeth Council educational resource video called
The Prodigals
. This was used to help the younger youth to deal with some of the problems of today such as peer pressure, life on the street and sexual issues. The project was such an impact, it has actually been sent to the different boroughs in London and Scotland.
After Tyler completed this project, she soon landed a cameo appearance in the feature film,
Adulthood
, written and directed by award-winning rising star Noel Clarke.After this Tyler soon decided to take a break out and attend Aml Ameen's acting agency ASA. After a while, she left going on to take part in eight different projects this year.
Tyler's latest project was a feature film written by Deji Sumfun. This was her first Nigerian film and is pleased it will be hitting all the well known countries in Africa. There is a lot more to see from this young, up and coming actress so look out for this 20 year old.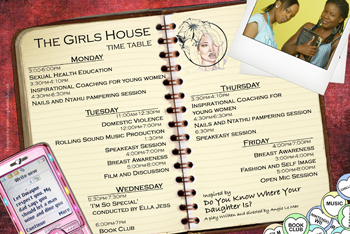 NOTES TO EDITORS
Press information:
for images, review tickets and interviews with the cast and Angie Le Mar call Sophia Jackson on +447855 86 77 78 or email: sophia@afridiziak.com
The borough of Lewisham is launching a short-term multi-faceted campaign called
Do you know where your daughter is?
The aim of the campaign is to engage girls and their parents in a series of debates and workshops. This will be done in four ways:
1.
The play: Do You Know Where Your Daughter Is?
at the Albany Theatre in Deptford from 2 - 4 and 7 November, 2009.
2.
The For Daughters shop-front:
an eight week shop that will begin on 12 October. It will be open to females only from Wednesday to Sunday 10am – 8pm running courses, events, workshops and sessions. The décor and attraction of the shop will be decided upon by way of consultation with a group of young women and Angie Le Mar.
3.
The Do you know where your daughter is? School Workshops:
The play will be brought into four schools in the Borough following which a discussion will take place between the students and the facilitators around the main themes in the play. The Girls House, 219-221 Lewisham High Street, London SE13 6LY. Visit the website:
www.thegirlshouse.co.uk
4.
The comic: Do you know where your daughter is?
The comic will follow the story of a girl as she navigates her way through the difficulties of a violent partner. It will be distributed to all young persons of secondary school age in the Borough and will focus on the positive support that exists for your women in similar situations.
Download the Do You Know Where Your Daughter Is press release
OUR SPONSORS